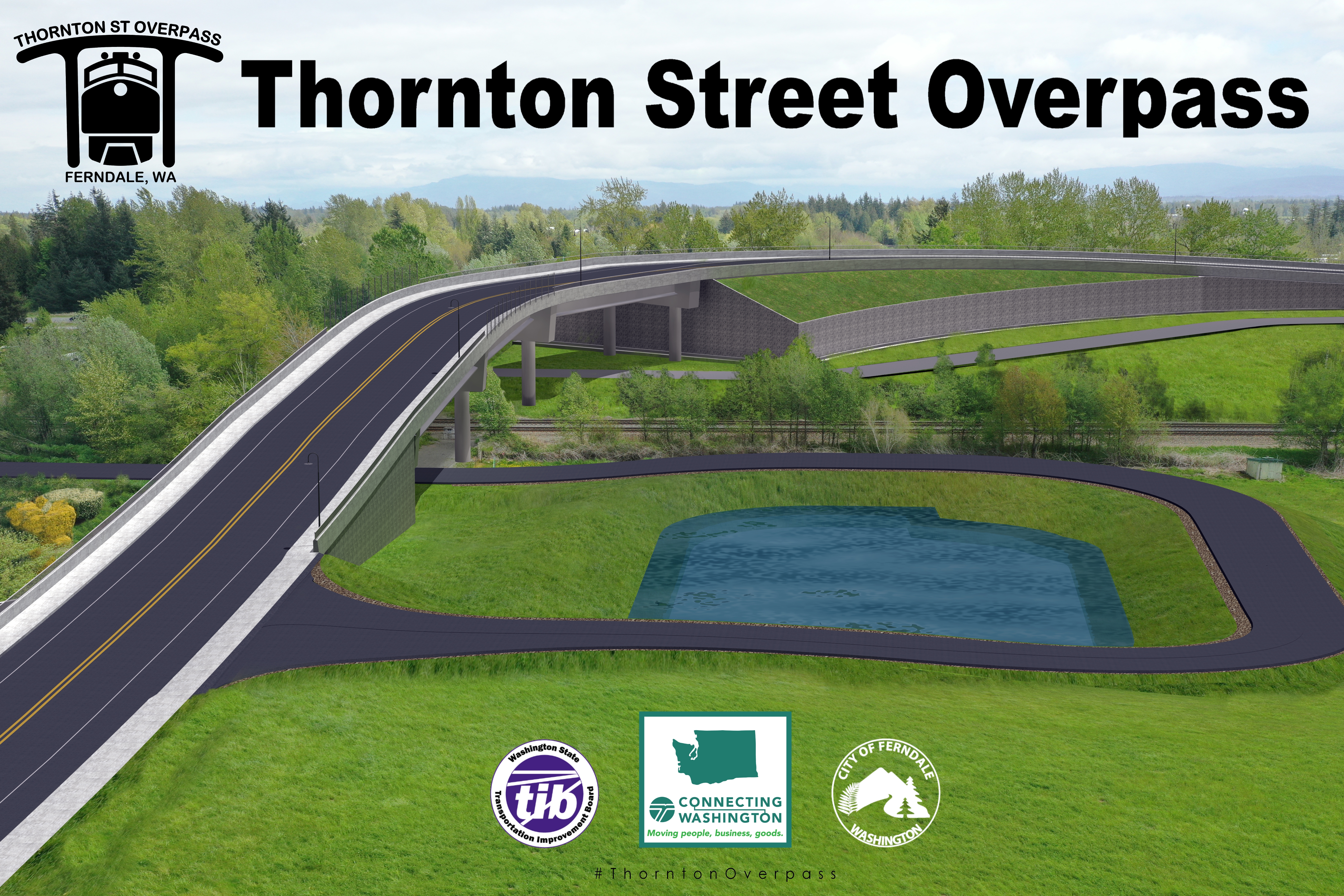 Thornton Street Overpass Project
This project will improve and connect Thornton Street, from Malloy Avenue to the roundabout at Portal Way/Second Avenue, via an elevated crossing at the Burlington Northern Santa Fe (BNSF) Railway right of way and tracks.
The new bridge will provide access between Malloy Avenue and the Portal Way roundabout which is anticipated to become a principal route for the majority of Ferndale residents living on the west side of the City.
In addition to the elevated crossing, Thornton Street will be upgraded to full city standards, including curb, gutter, shoulder, sidewalk and new street lighting within the project limits. Plans also include construction of a new stormwater treatment and detention facility, along with various utility upgrades to the water and stormwater systems.
Current Phase
Construction of the project began in April 2020.  This includes earthen wall embankments leading up to the overpass needed to clear BNSF's tracks, roadway and utility improvements, and the bridge structure.  Because of the large pre-loading needed to stabilize and compress the soils beneath the embankments leading up to the bridge, the construction phase of the project will stretch across multiple construction seasons to allow sufficient time for the soils to settle and compact.  After the settlement period, construction on the bridge structure can begin.  The City is anticipating a 3 year construction phase, with completion estimated in 2023.  Photos of the project's progress can be viewed on the City's facebook page, and by using the links below under "News & Information".
Funding
In 2016, the City was awarded $19,167,000 in grant funding provided through the Connecting Washington (CWA) Program. The State Legislature has earmarked $19,167,000 for this project, spread over multiple biennia as part of the Transportation Budget.
In 2018, the City was selected to receive $2,500,000 from the Washington State Transportation Improvement Board's Urban Arterial Program. This program is funded from the State's Motor Vehicle Tax.
Additional funding will be made available via the City's utility (water, sewer, storm) funds, transportation impact fees, and Transportation Benefit District, as needed.
News & Information
Construction Information
Strider Construction of Bellingham was awarded the construction contract for this project.  Work on the project is anticipated to begin in April 2020.
Bid Information
Engineer's Estimate Range — $16M to $21M
Pre-Bid Meeting — 1:00PM, Thursday, November 7, 2019
Bid Opening — 3:30PM, Thursday, December 5, 2019
Plan Holder List (updated daily unless no change from previous version)
ADDENDA
Project Plans
Steffrie Akers' Story
As we prepared for the Thornton Overpass project, members of the public have shared what this means to them. Here is one woman's story:
This project has been of great personal interest to me as I have lived the majority of my life not only in the City of Ferndale, but near the base of Thornton Street itself. In 1992, my parents moved my brothers and me from Bellingham into a house on Shelby Ct. and there we stayed. Thorton's road has been integral at many stages of my life.

As a child, it formed a border of the field I played in. I walked along it as I went to both Skyline Elementary and Vista Middle School. Returning home, I would often pause at many points to take in the glorious view of Mt. Baker. It instilled a need to pursue vistas wherever I went and be filled with perspective.

Even after graduating from Ferndale High School and traveling to new places, 6127 Shelby Ct. has remained the home of my soul. And to travel to it, I must always go down Thornton Street, my gateway to and from the rest of the world.

As the City of Ferndale begins this momentous task of building a bypass, it is extending Thorton Street into new possibilities. This bypass will continue to foster new growth and expansion in Ferndale. Not only does it alleviate current traffic congestion but allows for future city infrastructure. Ferndale's past progress with the Main street Bridge expansion seems to project upon this new venture. Is it possible that a new downtown center will form, or even a new high school?

These are questions I ask that only time will tell. But as the landscape of Thornton Street transforms into something new, it is certain that some other little girl will move to Ferndale just like me. And she will be forever shaped by Thornton Street.