How to Play
It is free to play – all you need is a team and a willingness to explore your city!
The first step is pick up a scorecard which you can download on the city website by clicking here, or picked up at City Hall. This is how keep track of the clues you've found and the points you've earned.
Next step is gather your team. Teams can be up to five people and you get extra points for a team that brings together people from outside your usual circles so get creative. After all, this is a great opportunity to get to know your neighbors.
Searching for Clues
Clues will be distributed through the City's facebook page, twitter account and posted at City Hall, the Ferndale Library and the Ferndale Visitor Center. The first clue will be released Sat. July 1st, and then after that it is every Tuesday and Friday until July 19th (6 clues in total).
ALL SCORECARDS DUE – Tuesday, July 23rd – 4pm.
The clues will lead you to banners hidden around town. Most of them are in Ferndale Parks but not all of them. The envelopes are on banners that look like this: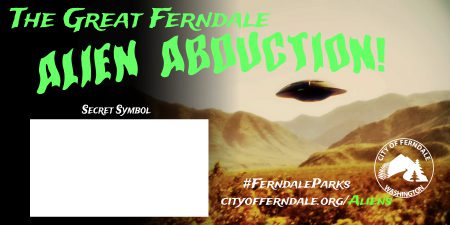 Inside the white box is a secret symbol. Copy this into the box on your scorecard to solve the riddle of what has been abducted from Ferndale!
Exploring Your City
There is so much more you can do to participate and win points for your team. On your scorecard, under "Exploring Your City", there are number of other activities you can do. They can be accomplished individually or as a team, whichever you prefer. All the activities require you to record something on the scorecard – and more details on each activity are on the backside of your scorecard.
Prizes and Winners
All scorecards are due by 4pm on Tues., July 23th. Winners announced Weds, July 24th.
1st Place: $100 in cash + Ride in a Public Works Vehicle in the Old Settlers Parade + Toys
2nd Place: $100 in cash + Toys
3rd Place: $50 in cash + Toys
EVERYONE who turns in their scorecard:  Medal for completing the Abduction
Final Thoughts
The Great Ferndale Alien Abduction is designed to get people outside, moving around and enjoying our city but as you can imagine, all these things involve a little risk. Please be safe and use good judgement when exploring and interacting with others. Participants play at their own risk.
Thank you again to all of our community partners for participating and to the Parks, Recreation and Trails Advisory Board for helping organize all this.
For more information or questions, call Communications Officer and frequent alien abductee Riley Sweeney at (360) 685-2353 or email him at rileysweeney@cityofferndale.org.