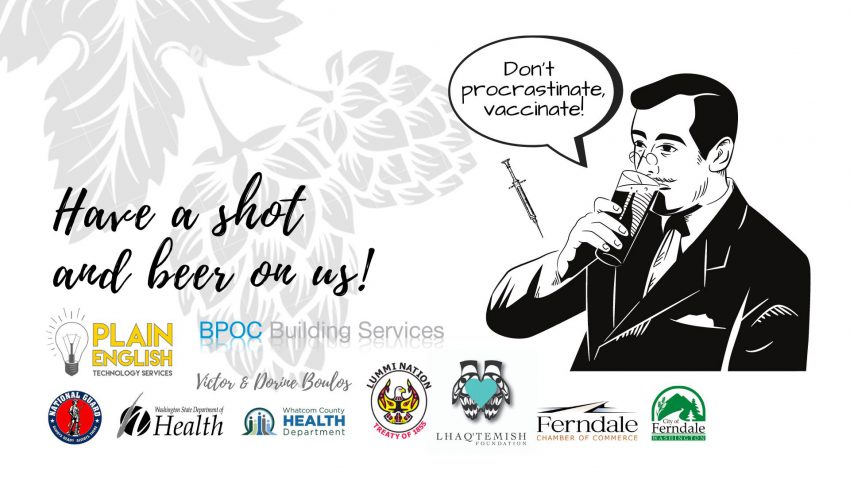 In response to the Whatcom County Health Department and the Whatcom Together Campaign's urging of increasing the vaccination rates for the northern part of the county, the Ferndale Chamber of Commerce will host the North County Vaccination Party Pop-Up Clinic on Wednesday, May 19, the at the Pioneer Pavilion from 3-8 pm.
To pre-register for an appointment:
 https://prepmod.doh.wa.gov/appointment/en/reg/8061605092

Walk-Ins are welcome!

Vaccine: Johnson & Johnson (one and done!) Please note this vaccine is only available for ages 18 and older.
This event is made possible because of the important community collaboration with Lhaq'temish Foundation, Lummi Tribal Health, Washington National Guard, Washington State Department of Health, Whatcom County Health Department, and the City of Ferndale.
The underwriting for the incentivization for a FREE beverage at several local North County establishments was made possible by Chamber Members: Plain English Technology Services, BPOC Services, and community members Victor and Dorine Boulos. The hope is by incentivizing vaccination, we are also helping drive business to local establishments that need support.
Ferndale Chamber of Commerce Executive Director, Anya Milton states, "The Ferndale Chamber supports businesses opening up as soon as humanly possible, and according to the health experts in the field, such as the Whatcom County Health Department and Washington State Department of Health, vaccinating our community is key for fast-tracking that aim."
North County community members are encouraged to pre-register to speed up the check-in process, however walk-ins are welcome. Information on this process will be on the Facebook Event page. In addition to the beverage voucher, raffle items and music will be present at the event to create a fun and positive environment.
Questions can be directed to info@ferndale-chamber.com or call 360-384-3042.