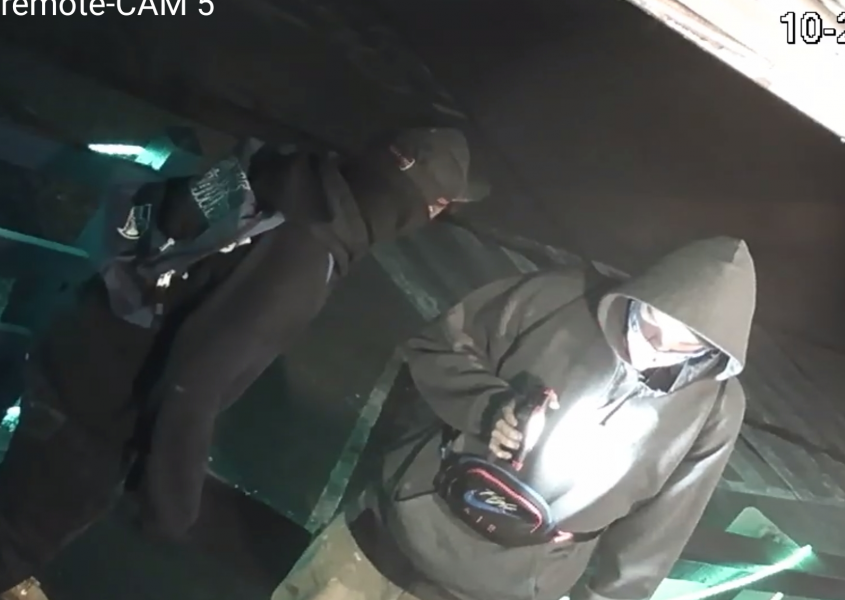 Ferndale Police Seek Public's Help Identifying Burglary Suspects
On 10/27/2020, Officers from the Ferndale Police Department, Deputies from the Whatcom County Sheriff's Office and Officers from Bellingham Police Department responded to two attempted burglaries of a marijuana retail store in the 6100 block of Portal Way.
During both events, two males who appear to be Caucasian attempted to kick in the door of the marijuana retail store. The first incident occurred at approximately 00:51 hours on 10/27/2020. WCSO deputies responded with a K-9 but a track was unsuccessful. The suspects were not able to make entry but caused significant damage to the door and door frame. The store owner responded and repaired the door.
At approximately 04:55 hours the two subjects returned and again attempted to kick down the door to make entry. They were unsuccessful for a second time and fled on foot out of camera view. Bellingham officers responded with a K-9 but a track was again unsuccessful.
Ferndale Police Department is seeking help from citizens in identifying the two would-be burglars.
Still shots from video surveillance of the two subjects have been provided by the store owner. One suspect was wearing what is believed to be a muted Chicago Bulls hat and a Seattle Seahawks drawstring backpack. He is also wearing a hooded sweatshirt with a unique logo on the front. The second suspect is wearing a red drawstring backpack and a Nike Air fanny pack.
If you have any information to assist in identifying either of these suspects, please contact Officer Brown at (360) 483-5731 or via email at sbrown@ferndalepd.org.