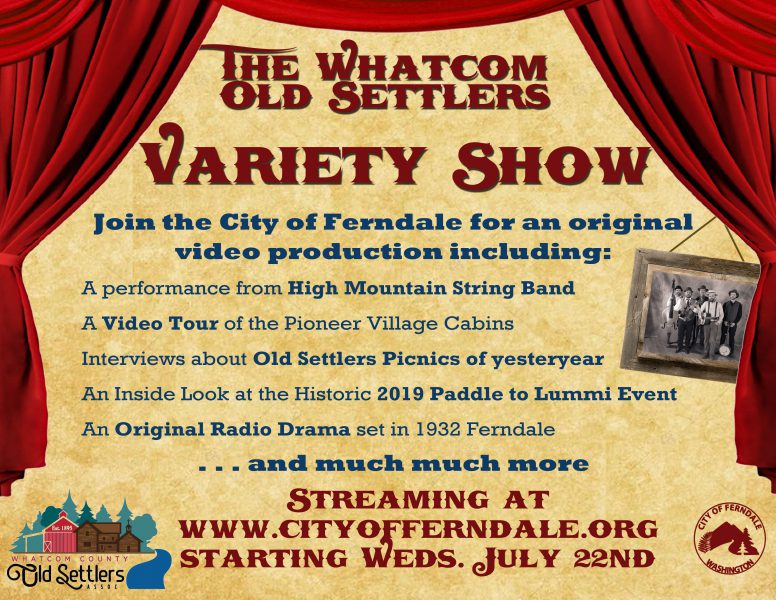 Whatcom Old Settlers Variety Show Available Online July 22nd
With the Old Settlers Weekend cancelled due to COVID-19 concerns, the City of Ferndale and the Whatcom Old Settlers Association are releasing a video celebration of Ferndale's history and culture. Dubbed the Whatcom Old Settlers Variety Show, this production includes a video tour of the historic Pioneer Village cabins, a concert from High Mountain String Band, interviews about Old Settlers Picnics of yesteryear, an inside look at the historic 2019 Paddle to Lummi event and an original radio drama set in 1932 Ferndale.
"We couldn't let this historic landmark, the 125th anniversary of the Old Settlers Picnic, pass us by," said Mayor Greg Hansen. "This is our opportunity to tell our story about the history of our community and celebrate the things that make Ferndale our special place by the river."
"We are looking forward to next year when we can bring back the Old Settlers Weekend," said Lynda Lucas, President of the Whatcom Old Settlers Association. "But in the meantime, we wanted to do something special to tide us over."
The Whatcom Old Settlers Variety Show will be available to stream online at www.cityofferndale.org starting Weds. July 22nd.
For questions and more information, please contact Communications Officer Riley Sweeney at 360-685-2353 or rileysweeney@cityofferndale.org.