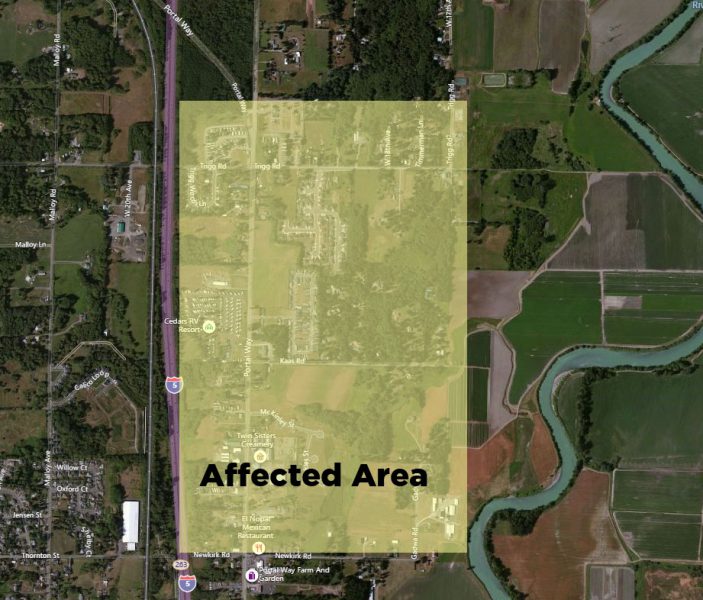 4/6/19 – 3:40pm Update: Boil Advisory is lifted. Test results came back satisfactory – all clear for Ferndale Water.
4/5/18 – 8:40pm Update: Crews are working to restore service within the hour however the boil advisory will remain in effect through tomorrow (Sat. April 6th) as samples are tested for potential issues.
During an inspection this morning, public works staff identified a leak in the water main that services the north Portal Way area. The Public Works crew mobilized on site, identified the source of the leak to be a cracked 12-inch valve and began work to repair the line.
Starting at 3pm and continuing through till 8pm, customers in the area will experience disruptions in their water service.
As a result of this work, the City is issuing a boil water advisory as a precautionary measure. An advisory does not mean that the drinking water is contaminated, but rather that it could be contaminated, so precautions should be taken until drinking water quality testing can be completed to confirm that no bacterial contamination is present.
Under a boil water advisory, customers in the affected area (see map) should follow these guidelines:
Boil all drinking water. Tap water should be boiled vigorously for three minutes before using it to drink, cook, or prepare food. Let the water cool sufficiently before drinking.
Ice made with un-boiled tap water should not be used for drinking purposes.
Dishes and food contact surfaces may be disinfected using tap water that contains one teaspoon of household bleach per gallon.
The tap water is safe for other purposes such as bathing; however, small children should be discouraged from swallowing bath water.
Water boiled for drinking and cooking purposes may be used for brushing teeth.
Thanks to careful monitoring and strict safeguards, it is unlikely that drinking water quality would be compromised, this is simply a precautionary measure. The City will issue updates via our website and social media when this advisory is lifted.
For more information, please contact Chief Plant Operator Mike Olinger at (360) 384-4607 or mikeolinger@cityofferndale.org