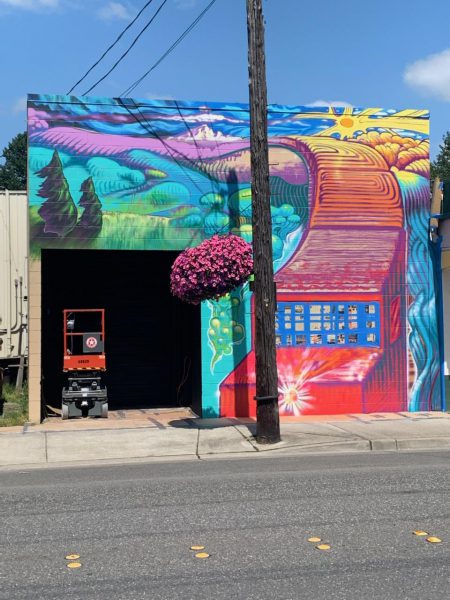 The Ferndale Arts Commission has commissioned a new mural at 2050 Vista in the heart of Downtown Ferndale. This new piece by local artist Matt French is titled "Train Terrain" and was funded by the Ferndale Arts Commission with assistance from the building owner.
French shares a special connection with Ferndale. His uncle actually worked in this building when it was a machine shop and French's early awakening as an artist has roots in Ferndale. In his youth, he was arrested in Ferndale for graffiti. While he served his brief jail time, he drew on envelopes which lead to his envelope art getting published in Thrasher Magazine, a skateboarding publication. He has been the art director at Pocket Pistols Skateboards for the last 15 years. His work includes designing shoes for Nike, creating collections for Volcom and Vans, and a standing-room-only art show in Tokyo. Next year, he will be returning to Tokyo to promote SK8FACE, a movie on the history of skateboard art which is coming to Netflix next year.
The Ferndale Arts Commission has added eight murals to the downtown core in the last two years to bring life, interest and beauty to Ferndale. They are looking for future locations. Interested building owners or artists can contact City Clerk Susan Duncan for more details.