Reservoir #1 Overflow Modification Project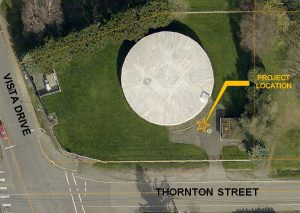 This project involves modifying the existing reservoir overflow piping at Thornton and Vista Drive from below grade to above grade with a gooseneck and air gap, including excavating to an approximate depth of twenty feet below existing grade for installation of a new manhole with top slab, a new 8" ductile iron pipe and fittings, site work, and related work.
News & Information
Bid Process
Note to bidders:  Bids will only be accepted from Bidders who are listed on the planholders' list.  If you download plans and specifications from this website, please email StephanieHendrickson@cityofferndale.org to be added to the planholders' list.  Plans and specifications are also available for purchase ($50 per set, non-refundable).
File Size note:  Plans and specifications files are very large.  Save a copy to your computer by right clicking the file and choose "Save As".
Engineer's Estimate:
Pre-Bid Meeting: Thursday, August 25, 2016 at 4pm in the City Hall Conference Room
Bid opening: Thursday, September 1, 2016 at 2pm in the City Hall Conference Room
Planholders' List (Updated daily unless no change from previous version)