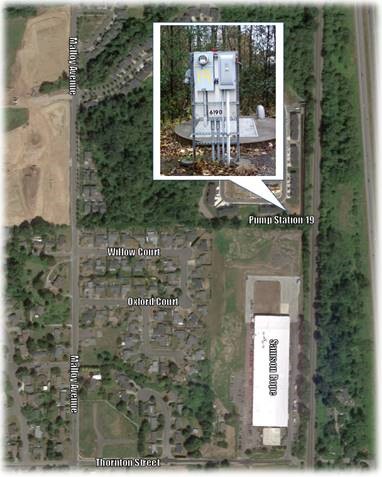 Pump Station 19 Decommission
(Malloy Village)
Pump station 19 currently services the Malloy Village subdivision, located north of Thornton Street and east of Malloy Avenue. In early 2018, the City completed the Thornton Street Sewer Extension Project. This project involved the installation of a new sanitary sewer gravity main on Thornton Street, beginning at Malloy Avenue and extending to the roundabout at Portal Way and Second Avenue via bore under BNSF Railway's tracks.
Thanks to this project, the City is now able to divert significant wastewater flows to Portal Way and Second Avenue and ease capacity issues on several segments of existing sewer collection mains (including pump station 19) located on the corridor, between Malloy Avenue and BNSF's tracks.
The project will install a new gravity sewer main, connecting Malloy Village to the new Thornton Road sewer system and allow the City to decommission pump station 19.
News & Information
Bid Process
Pre-Bid Meeting:

10:00 AM, Sept 17, 2020. The meeting will be conducted via Microsoft Teams.  Those wishing to attend shall use the email link below to request an invitation:
An onsite meeting will be held at Pump Station 19 one hour after conclusion of the pre-bid meeting, but no earlier than 11:30AM so bidders can view the jobsite in person.  The pump station is located immediately east of 2013 Calico Loop.  If you have questions, please contact Public-Works@cityofferndale.org

Bid Opening:
Planholders' List (Updated daily unless no change from previous version)
Note to bidders: If you download plans and specifications from this website, please email Public-Works@cityofferndale.org to be added to the planholders' list.
ADDENDA:
Project Specifications and Plans:
File Size note: Plans and specifications are very large. Save a copy to your computer by right clicking the file and choose "Save As."
Engineer's Estimate Range: