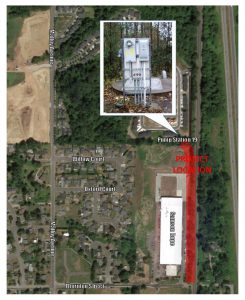 Pump Station 19 Decommission
(Malloy Village)
Pump station 19 currently services the Malloy Village subdivision, located north of Thornton Street and east of Malloy Avenue. In early 2018, the City completed the Thornton Street Sewer Extension Project. This project involved the installation of a new sanitary sewer gravity main on Thornton Street, beginning at Malloy Avenue and extending to the roundabout at Portal Way and Second Avenue via bore under BNSF Railway's tracks.
Thanks to this project, the City is now able to divert significant wastewater flows to Portal Way and Second Avenue and ease capacity issues on several segments of existing sewer collection mains (including pump station 19) located on the corridor, between Malloy Avenue and BNSF's tracks.
The project will install a new gravity sewer main, connecting Malloy Village to the new Thornton Road sewer system and allow the City to decommission pump station 19.
Current Phase: Ferndale City Council awarded this project to Strider Construction Co., Inc. at their October 5, 2020, meeting.  The project is currently under construction and anticipated to be complete in January 2020.
News & Information
Bid Process
ADDENDA:
Project Specifications and Plans: