Ferndale Community Coalition
The Ferndale Community Coalition is a collaborative group dedicated to building and strengthening the capacity of the community with the goal to create safe and healthy environments where youth and families thrive.
Our mission is to engage the community to promote healthy youth development by addressing equity, safety and substance abuse issues.
Our vision is a courageous community where all young people thrive.
The Coalition meets monthly from September to June. We work to represent a cross-section of our larger community, believe that all voices matter, and welcome new members. Please see the calendar for information on our next coalition meeting. (Meetings are open to the public and everyone is welcome)
You can get the latest information via our facebook page here. 
2017-2018 Accomplishments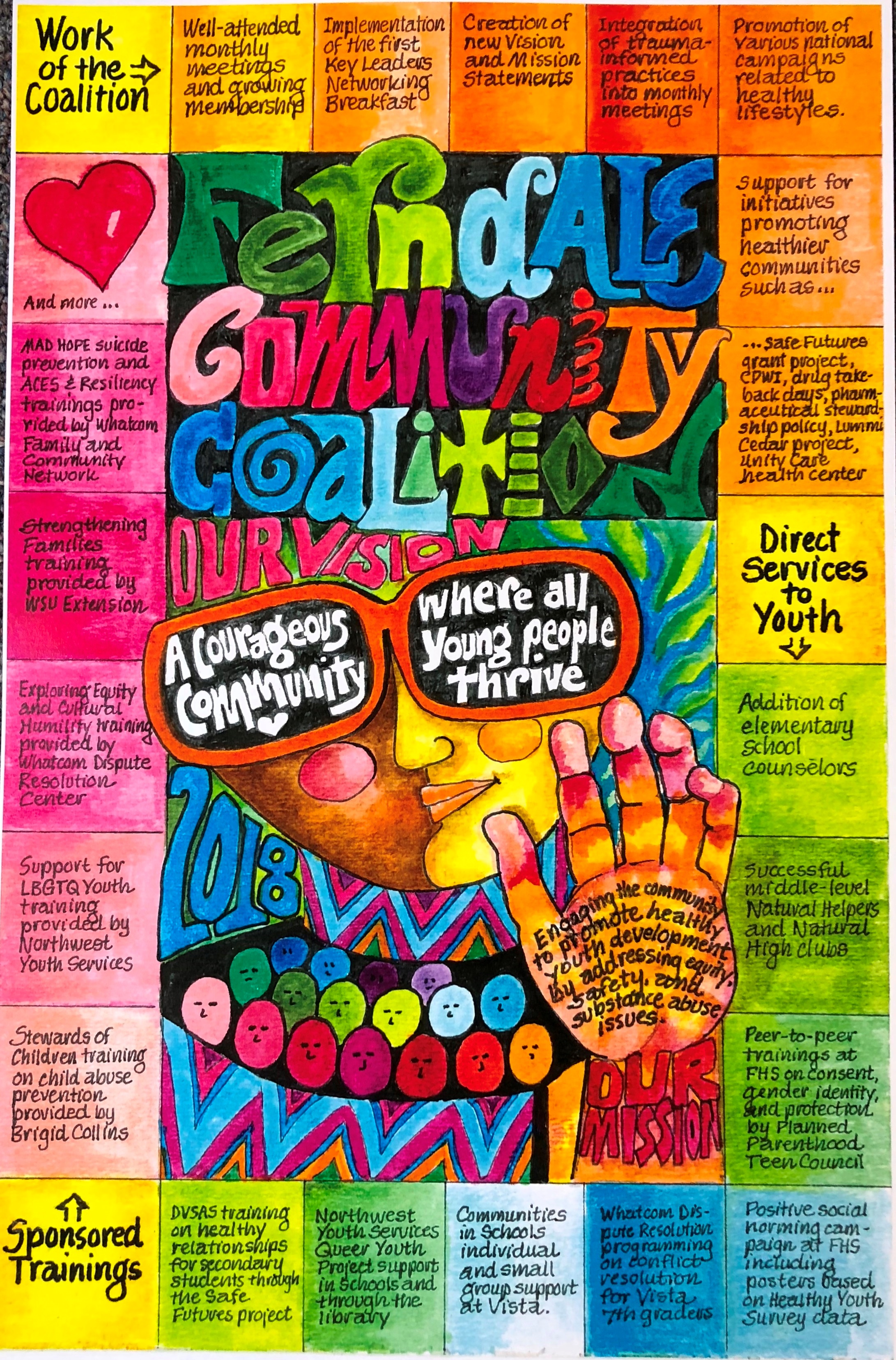 Latest Events and Workshops
Next Monthly Ferndale Community Coalition Meeting (Summer planning meeting)
When: Tuesday, July 10; 9:00am-10:30 am
Where: TBD
For more info about how to get involved: RSnearly@co.whatcom.wa.us
Like Ferndale Community Coalition's Facebook page and stay connected: https://www.facebook.com/FerndaleCommunityCoalition/
NW Youth Services Queer Youth Project Year End Celebration and Pride Party         
When: June 29; 4-6pm
Where: First Congressional Church of Bellingham
Cost: Free
Youth and adults are invited, so please spread the word. Please RSVP by scrolling to the pink Q on their events page: https://www.nwys.org/events
Community Meals
Where: United Church of Ferndale
Cost: Free
For more information:  pastor@ucf1.org
 Pancake breakfast
When: First Saturday of the month; 8-10am
Community meals
When: Second and fourth Saturdays of each month; 10am-noon
Boys and Girls Club of Whatcom County  is offering breakfast and lunch to anyone 18 and younger
When: June 25-August 17
Where: Whatcom County Boys and Girls Club locations
Cost: Free
For more information: smdennison@whatcomclubs.org
YMCA programs available (vary by location: Bellingham, Lynden, and Ferndale)
LIVESTRONG with the YMCA – cancer survivor strength and educational class
Diabetes Prevention Program – lifestyle change program
Weight Loss Program – 12 week support group class
ACT – (Actively Changing Together) – a family program of activity and healthy eating.
Pedaling for Parkinson's – cycling classes three times per week to help reduce symptoms for these folks
SilverSneakers, Silver and Fit – free gym memberships for older adults with the participating supplemental insurance
These vary by cost, but the Y offers scholarships on an individual basis.
For more information: whatcomymca.org or contact Karin Martin, Ferndale Healthy Living Coordinator 360.380.4911; kmartin@whatcomymca.org
Whatcom Dispute Resolution Center is holding a Youth Peace Poetry Contest: Building Peace with Poetry
For youth ages 4-18; submit by September 25, 2018
For more information: https://www.whatcomdrc.org/youth-peace-poetry-contest/
Poems can address conflict and reconciliation aspects of peacemaking, or anything related to peace and conflict.
St. Joseph/PeaceHealth offers a FREE, "Teen Heart Screening" program. The principle contact is Jerry Marschke,​Executive Director, Cardiovascular Services at 360-788-7718. For more information: https://www.peacehealth.org/st-joseph/services/cardiovascular-center/Pages/Teen-Heart-Screen
Unity Care NW is starting construction on a new Portal Way health center to serve north Whatcom County. The clinic is expected to serve an additional 9,500 patients when it opens by summer 2019.