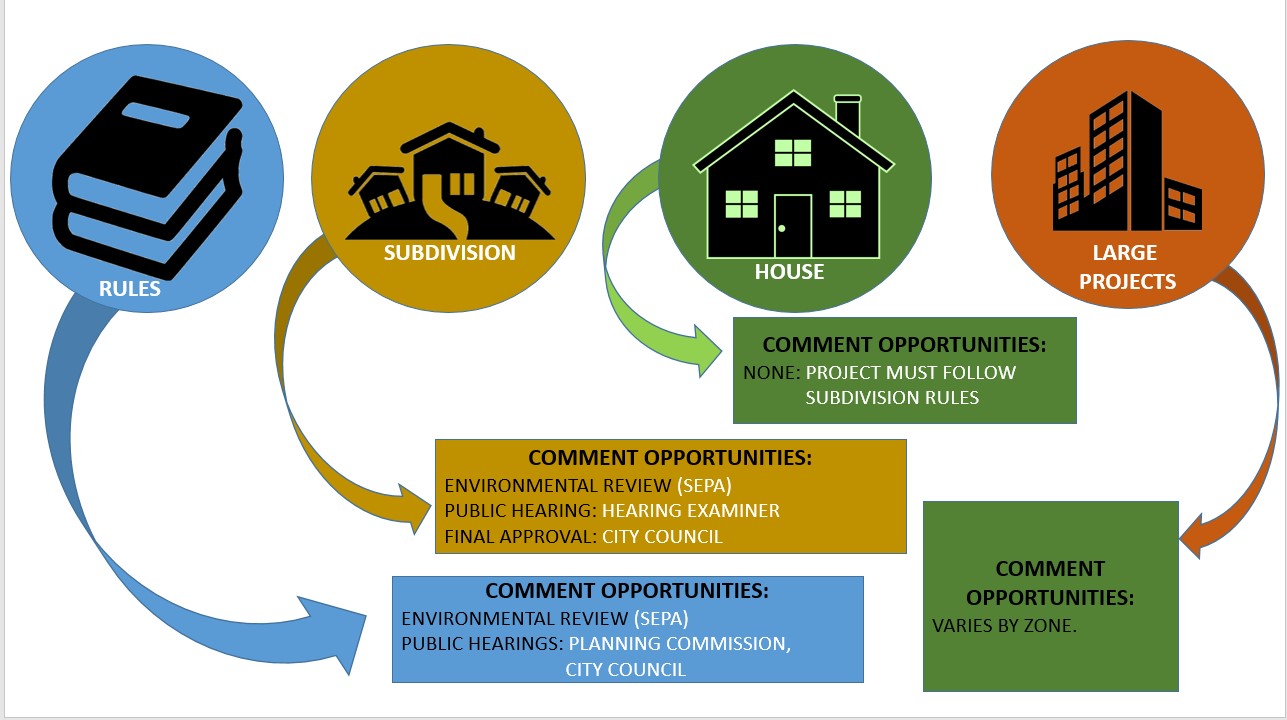 When Should I Comment?
The City of Ferndale strongly supports and encourages public involvement in the land use planning process. Members of the public can submit written comments before a staff decision, before a hearing, or testify at a hearing. However, it can be confusing knowing when is the best time to comment. Here's some information to help – it all depends on what sort of project you wish to comment on.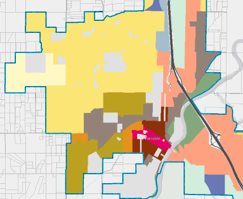 Long Range Planning Decisions (Rules)
Decisions such as Zoning and Comprehensive Plan changes require multiple public hearings at the Planning Commission and City Council.
Long Range Decisions guide the process for permitting individual development projects. Citizens can offer comments in advance of those meetings by email or at the meetings themselves in person.
Where to Check: City homepage, the City Council agendas (found here) or Planning Commission agendas (found here).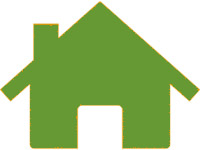 House
The construction of houses in existing subdivisions do not require additional public hearings or notifications. They are already allowed by the zoning of that area; if an applicant is able to demonstrate that they meet all applicable regulations, they will be permitted.
As there are typically no public comment periods associated with these developments, the best time to participate is in the long range planning decisions above.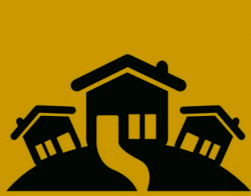 Subdivision
Discretionary projects are more complex projects, most commonly residential subdivisions, though there are other types of projects that may vary by zone. These projects typically require an environmental review (called SEPA) which seeks comments related to the potential environmental impacts of a proposal. The public is invited to offer comments that will be considered by staff.
Many of these projects also include a public hearing before the Ferndale Hearing Examiner – a Land Use judge who considers public comments and staff recommendations and weighs those recommendations against current regulations. The city council then considers the recommendations of the Hearing Examiner. Don't wait for the project to arrive at council – please submit your comments before the project goes to the Hearing Examiner for full consideration.
Where to Check: The Hearing Examiner Agendas (found here)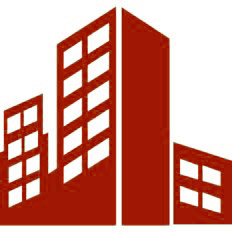 Large Projects
From time to time, large projects such as factories, apartment buildings and large stores, may come to Ferndale. It is important to remember that public comment opportunities are not tied to the size of the project but to the type of project. This means that in some situations, large projects that are planned for a certain zone have no additional public comment opportunities since their impact has already been evaluated as part of the long range planning for that area. This does not mean that the city requirements have been reduced, only that the applicant is located their project in an area of town where the community has decided is an appropriate place for that activity.