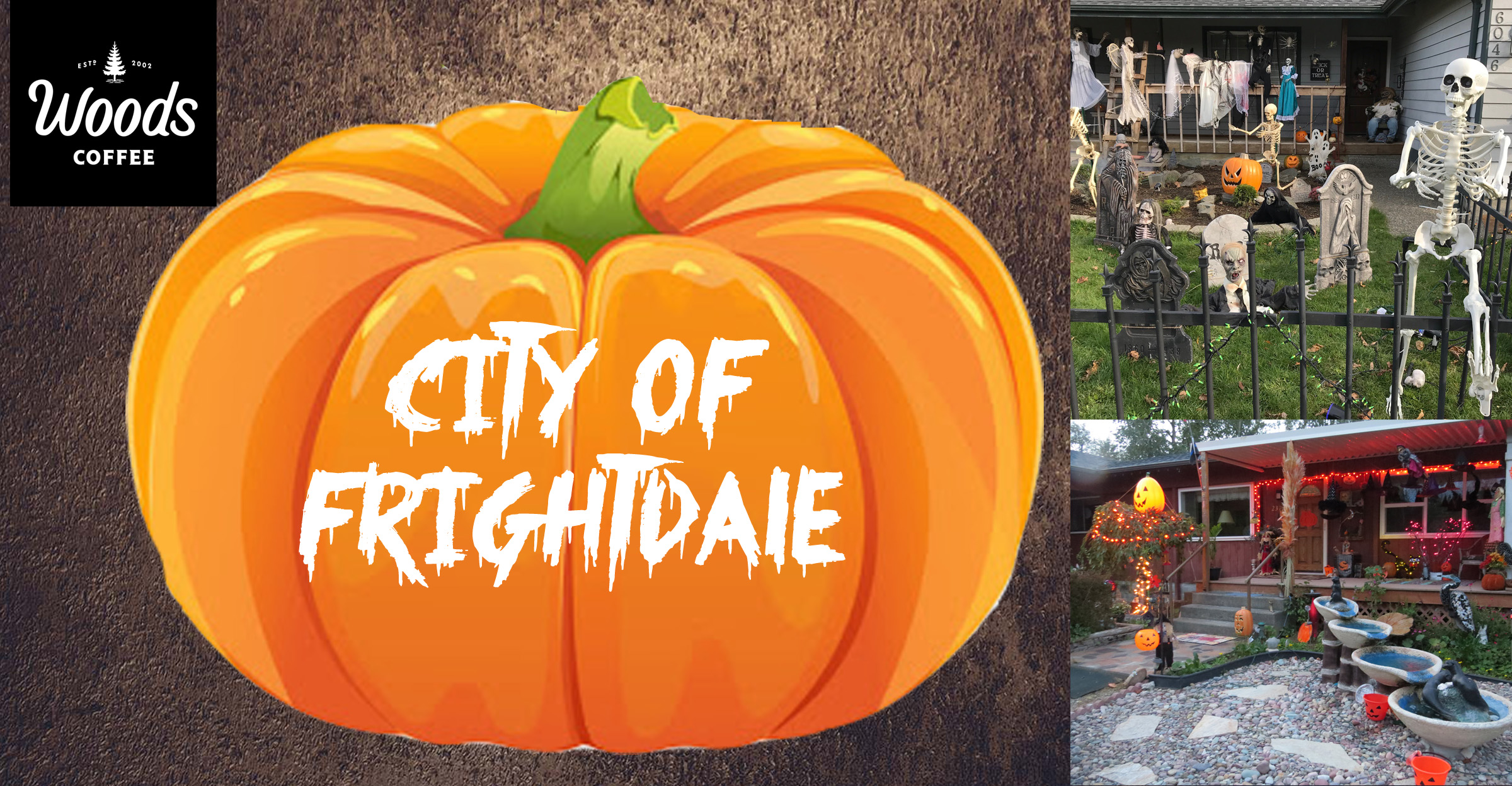 City of Frightdale Halloween Decorating Contest
It is time for the 2020 City of Frightdale Halloween Decorating Contest! On Halloween, enjoy terrifying sights across the city and vote on who has the spookiest place! This year, there are TWO ways you can participate.
Sign Up and Decorate:
Click here to send an email to Recreation Coordinator Riley Sweeney at rileysweeney@cityofferndale.org by Oct. 26th with your name and address to be added to our interactive City of Frightdale Halloween map. You will receive a Frightdale yard sign with a number on it.
Then on Halloween, put out your scariest decorations and if you like, be part of those decorations! Make your front yard a graveyard and pop out of that coffin! As your friends and neighbors go by, they can find your Frightdale number on the map and score your house.
The high scoring houses receive gift cards donated from Woods Coffee.
Participate and Vote:
Participants can travel around the city visiting all the spooky locations on our Frightdale Map (it will be live on Halloween here at www.cityofferndale.org/Frightdale). Find the spooky houses and score them as you visit.
If you score more than five houses, you will be entered into a drawing to win a gift card donated by Woods Coffee.
Ready, Set, GO!
Explore your city, terrify your neighbors and have a fantastic (and safe) Halloween. For more information and questions, email Recreation Coordinator Riley Sweeney at rileysweeney@cityofferndale.org or call him at 360-685-2353.
Congrats to our Winners
Thank
you to the over 240 people who participated in City of Frightdale this year!
Based on YOUR votes, the spookiest houses in Ferndale are:
1. Brian and Christine on Ferndale Terrace (House #16)
2. Jeri on Lincoln Drive (House #7)
3. Stephanie on Myers Drive (House #2)
4. Delina on Nicholas Drive (House #8)
Thank you to all of our houses that signed up and put up decorations. City staff will be by tomorrow to pick up the yard sign for use next year, and for the winners, the gift card is going in the mail.
We also did drawings for everyone who voted for at least five house. Congrats to Jen L., Tanya S. and Rayna S., you are the winners of our gift card drawings. I will be in touch shortly to put them in the mail.
Score Frightdale Houses Below
Make sure to enter your contact info at the end for a chance to win a Woods Coffee gift card.