Here is a notice from our partners at Puget Sound Energy about an upcoming project starting July 15th that will impact Ferndale residents.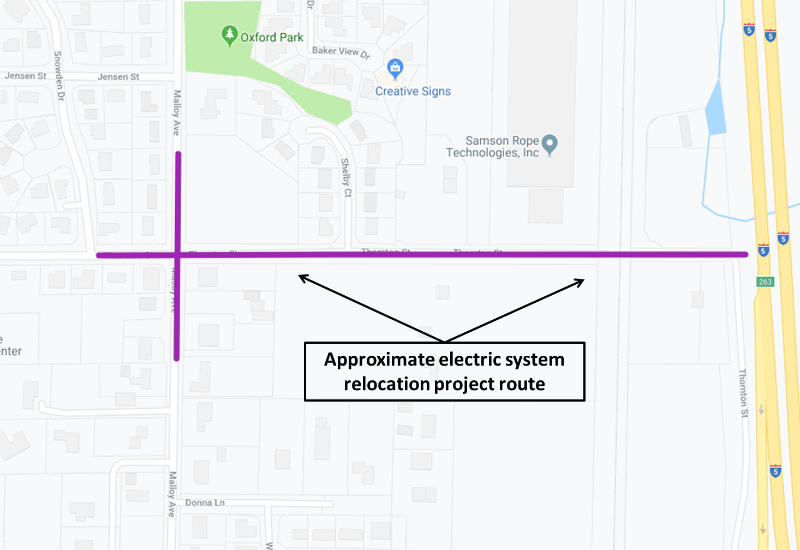 Thornton Street electric system relocation project
In conjunction with the City of Ferndale's Thornton Street overpass project and in an ongoing effort to deliver safe and reliable energy to the Ferndale-area, Puget Sound Energy electric crews will be working along Thornton Street to relocate select utility poles, upgrade related electric equipment and underground a section of the existing overhead electric wire. Due to the complexity of the work and for the safety of our crew, we may need to take a planned power outage towards the end of the project which might impact your residence or business. Please see below for project details.
Project details
Who:   Electric crews from PSE and Potelco and underground trenching crews from Power X
What:     Replacing select utility poles, upgrading related electric equipment and undergrounding electric wire
Where:   Thornton Street between Snowden Drive and Interstate 5, Ferndale  
               (please refer to map above for approximate project route)
When:    Work is expected to begin the week of July 15 and is anticipated to last into late August
Project dates & duration could vary based on inclement weather and emergency crew assignments
Typical daytime work hours are approximately 7 a.m. to 5 p.m.
What you can expect
To prepare for this work, crews were in the area surveying the project route and marking current underground utilities with brightly colored paint or flags
Signs and traffic control flaggers will guide vehicles and pedestrians safely through the work zone
There will likely be noise from trucks and heavy machinery during working hours
As a part of this work, some customers may experience an interruption in electric service. We will notify those impacted customers directly prior to beginning any work requiring a planned power outage in person, by mail, email or door hanger and we will work closely with businesses to schedule any interruption of service outside of business hours
Once work is complete, crews will go back over the work zone and clear any remaining debris
For more information regarding the Thornton Street overpass project, please visit the City's website: https://www.cityofferndale.org/public-works-department/capital-projects/thornton-railroad-overcrossing-project/.
Thank you for your patience and understanding while we work to complete this project. We aim to cause as little disruption as possible. If you have any questions regarding PSE's portion of this project, please contact me and reference job number 101110819.
Sincerely,
Jane Major, PSE Project Manager
360-791-2748 | jane.major@pse.com