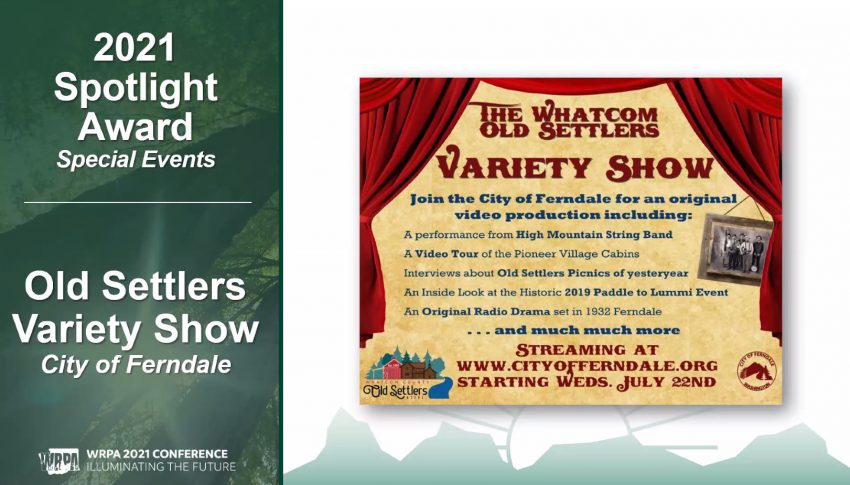 The City of Ferndale received the 2021 Spotlight Program Excellence Award for the Old Settlers Variety Show from the Washington State Recreation and Parks Association (WRPA) at their annual conference.
The Washington Recreation & Park Association celebrates people, parks, and programs with an annual awards program honoring individuals and organizations for their contributions to the field of parks and recreation in Washington State. Spotlight Program Excellence Awards honor achievements in the delivery of parks and recreation programs and services.
The City of Ferndale, in partnership with the Whatcom Old Settlers Association, produced the Old Settlers Variety Show, a unique celebration of Ferndale's history and culture. The streaming video program was produced as a substitute for the 125th anniversary of the Old Settlers Weekend during the pandemic and included a documentary from the Lummi Nation, an original radio drama set in 1930s Ferndale featuring local actors and written for the occasion, interviews with community leaders about Pioneer Days of years gone by and concerts. It is available for streaming for free at www.cityofferndale.org/varietyshow
"A community that does not tell their own stories loses a bit of their soul. I'm grateful for all who shared their stories and helped us turn this challenge into an opportunity to create a piece of Ferndale history," said Recreation Coordinator Riley Sweeney.