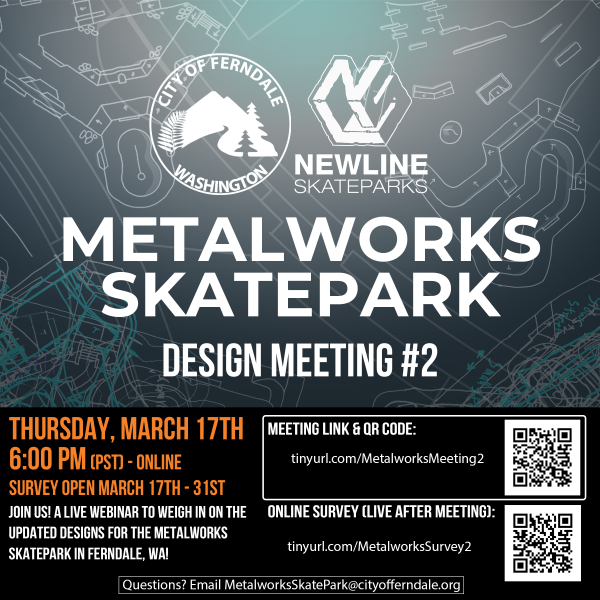 Join New Line Skateparks  and the City of Ferndale on Thursday, March 17th at 6:00PM to review the latest concepts for Metalworks Skate Park. Attendees of this remote meeting will be able to check out the latest design concepts for Metalworks Skate Park and see how previous public input has been incorporated into the design. New Line Skateparks will also provide an update on the work done so far, summarize the feedback already received and provide more opportunities for the public to shape the construction of the park.
The remote meeting can be accessed on March 17th at www.tinyurl.com/MetalworksMeeting2. An online survey will be available after the meeting for additional opportunities to provide feedback. It will be live at www.tinyurl.com/MetalworksSurvey2
Metalworks Skate Park will be constructed in Pioneer Park in Ferndale, and will provide a fun space for people of all ages and abilities to ride, skate, rollerblade or scooter. Construction on Metalworks Skate Park is expected to begin in 2022. For more information, check out www.cityofferndale.org/skatepark or follow #sk8metalworks.