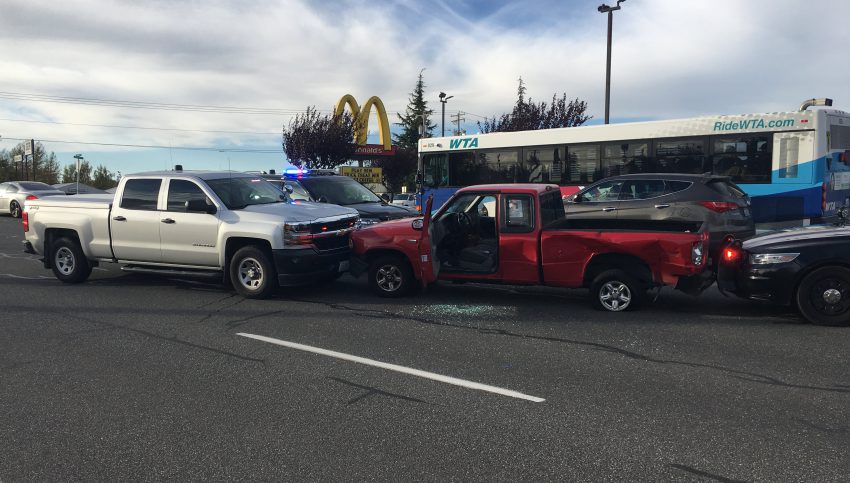 From the Ferndale Police Department
On 10/26/2018 at approximately 1520 hours, Officers were dispatched to an AM/PM convenience store at 6890 Grandview Road for a report of a male masturbating in his vehicle in the parking lot. The reported license plate did not match the described vehicle.
Officers arrived and located the vehicle described and observed the man still exposing himself. Officers contacted the suspect who refused to open the door and exit the vehicle. The suspect then started his vehicle and attempted to flee from the officers, ignoring commands to stop. Officers began to pursue the vehicle as it traveled east bound on Grandview Road, turning southbound onto I-5.
Additional officers attempted to use spike strips at Ferndale Main Street on I-5 however, the subject slowed and drove onto the median to avoid the spike strips. As the subject continued south on I-5, an Officer behind the subject used a PIT maneuver to try and stop the subject.
The subject's truck spun however, and the subject used his truck to ram multiple police vehicles while trying to get away. The subject rammed and pushed police vehicles with his truck until he was able to continue to flee, continuing south on I-5 continuing to endanger the public and Officers.
Another Officer used a PIT maneuver again in an attempt to stop the subject. The subject again rammed and pushed police vehicles until he was able to continue to flee, this time disabling a police vehicle by pushing it into a ditch with his truck.
The subject then drove north in the southbound lanes, fortunately traffic had been stopped. The subject drove the wrong way on the Ferndale Main Street I-5 on-ramp, against traffic, and traveled East on Main Street. Officers were then able to make another PIT attempt, the subject's truck spun around and he was then blocked in with three police vehicles. The subject continued to try and ram through the police vehicles as officers broke out his window and were able to secure the subject and take him into custody.
The subject was identified as Ronald A. Worthen (08/13/1965). No officers were injured in the pursuit or arrest.
Mr. Worthen was later booked into the Whatcom County Jail on the following charges:
Attempting to Elude a Police vehicle
Assault 3rd x4
Hit and run x4
Driving while license suspended 3rd
Indecent exposure
And three unrelated warrants from other jurisdictions.
This case is still under investigation, additional information and/or charges may follow.