The Ferndale Arts Commission is collaborating with the Lhaq'temish Foundation to complete a Coast Salish mural project on the west side of the Pioneer Pavilion.
The whole project is planned to be complete by the end of summer of 2022. Two smaller murals are being completed this year as part of the larger project, the first of which is nearly finished and will be wrapped up early this week.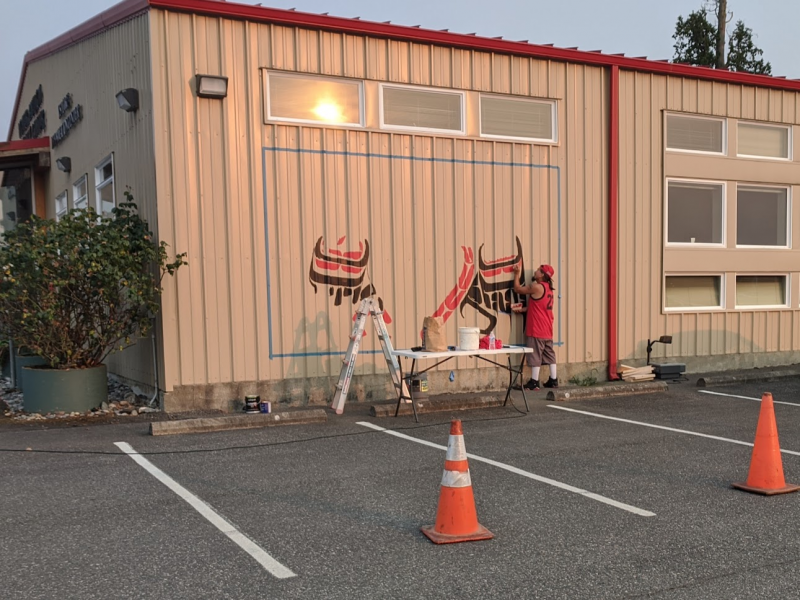 Jason LaClair is a 38 year old member of Lummi Nation. His design on the Pavilion is called "One From the Heart." Jason has been practicing in the Northwest Coast Style for over 20 years, mainly focusing on creating logo designs for many Tribal entities in both Nooksack and Lummi. Jason has wanted to paint murals in Whatcom County to ensure the First Peoples of Whatcom and the Coast Salish Communities are recognized, as well as their Coast Salish ancestors. Jason has completed several murals before and is collaborating with Gretchen Leggit on an upcoming  mural for the City of Bellingham as well.

"The Ferndale Arts Commission is grateful to work with Jason and bring his art to the Pioneer Pavilion project" said Rebecca Xczar, Ferndale Arts Commission Chairperson. "We are so excited to bring this Coast Salish project to the Pioneer Pavilion, and we deeply appreciate the collaboration with the Lhaq'temish Foundation."  

The second mural piece is planned to begin this week.