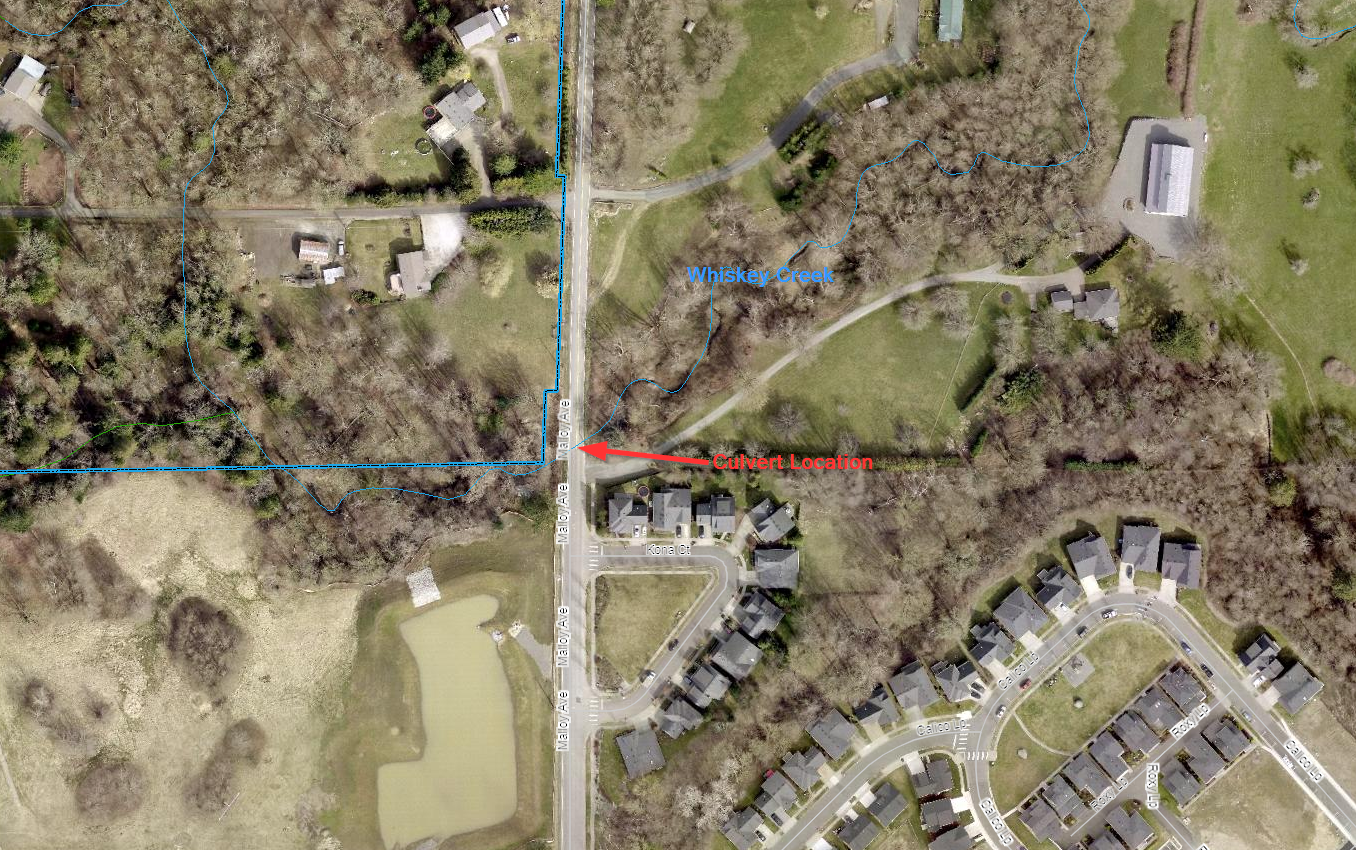 Malloy Avenue/Whiskey Creek Culvert Replacement Project
The project will replace a failing culvert located within the 6300 block of Malloy Avenue with a fish passage structure and upgrade the existing roadway to current City standards including curb, gutter, sidewalk, lighting, and a widened shoulder area to accommodate bicycle traffic. Other improvements include extending the existing water main, and improving the streetlighting in that area.
BID INFORMATION FOR MALLOY AVENUE WHISKEY CREEK CULVERT REPLACEMENT PROJECT
All bidders are encouraged to contact the City of Ferndale at public-works@cityofferndale.org and request that their contact information be included on the planholders list for this job.  Only those listed on the planholders list will be contacted directly to be informed of changes to the bid documents or bid opening date.  Any updates to the opening date, plans or specifications will also be posted on this webpage.
Bid Opening — 2:00PM, Thursday, June 15, 2023, in the main conference room at City Hall, located at 2095 Main Street, Ferndale, WA 98248
Engineer's Estimate Range — $1.6M to $1.98M
Project Plans – If you require a hard copy set of drawings or specifications, please email public-works@cityofferndale.org or call ahead to City Hall at (360) 384-4006 to ensure we have a copy available and ready for pickup.  City Hall hours are Monday – Friday, 8:30am to 4:30pm. Digital copies are available for download below:
ADDENDUM 1 — Issued 6/8/2023
ADDENDUM 2 — Issued 6/14/2023
ADDENDUM 3 — Issued 6/15/2023
Planholders List — BIDDERS MUST REQUEST TO BE ADDED TO THE PLAN HOLDER LIST.  Please email public-works@cityofferndale.org to be included on the list.  This document will be updated daily as plan holders are added.
Record of Bid Opening — bid results are not official until tabulated.
---
Past News & Information
---