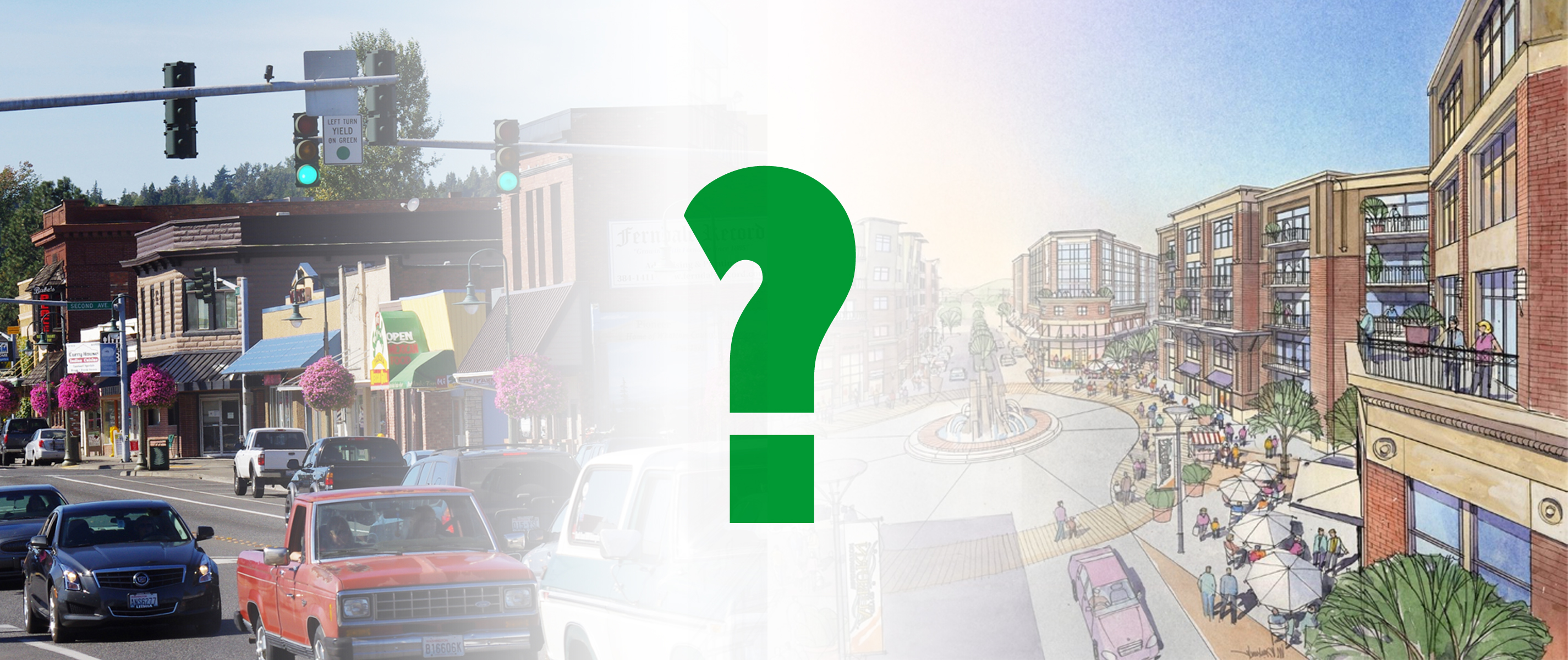 Downtown Ferndale Listening Session
Social Media Roundup
This week, we asked you what you wanted to see in your downtown, and you answered. As of this morning, we received over 427 comments from almost 200 individuals sharing your thoughts on what our downtown needs to thrive.
Thank you. 
Not every community can have these sorts of open discussions and we really appreciate the opportunity to hear from each and every one of you. It may seem like a radical concept to some but here at the City of Ferndale, one of the most important things we do is listen to the people.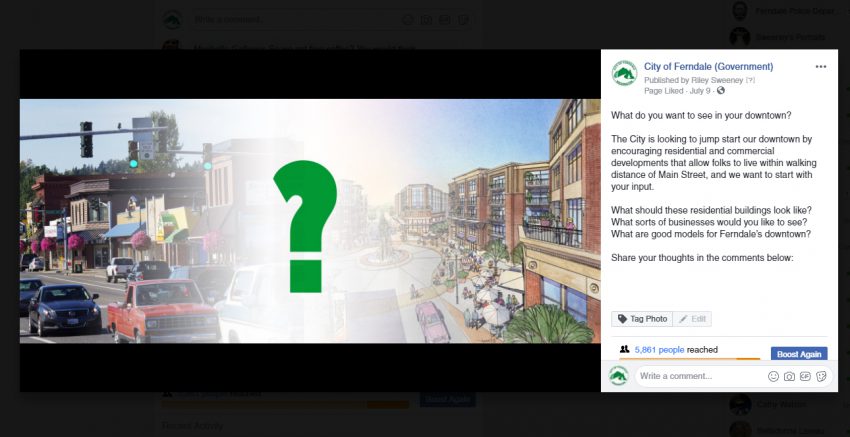 As you can imagine, some general themes emerged within the responses and we've compiled them below, along with all the unique suggestions. Our hope is not to try and sway you one way or another – our goal is to provide some context and additional information relating to some of the responses we got.
With that in mind, let's look at the responses we got.
"No More Development Until You Fix Traffic"
By far, the most frequent response was speaking to our traffic challenges. With our rapid population growth in the last ten years, Main Street has felt the strain. Here in City Hall, we get it. We drive it every day.
Here's some of the things we are doing right now to relieve the pressure:
Building the Thornton Road Overcrossing. Thanks to a grant from the State, we are on track to break ground on the Thornton Road connection in 2019, with the goal of completion in 2022/2023. While it is not a silver bullet for our traffic challenges, it will have a big impact on our Main Street.
Construction of the I5/Portal Way Roundabout. We begin construction of a roundabout at the Portal Way exit of I-5 later this month. This will make it even easier to take the 263 exit and access the northern part of Ferndale.
Improving the Traffic Light Timing. We are regularly working with the technicians at the City of Bellingham and our traffic engineers to improve the timing of our traffic lights on Main Street. As you can imagine, the ever-shifting circumstances of our downtown (increased traffic from the refinery on a turnaround, trucks being rerouted due to flooding, etc) means that we are constantly refining the formula that we use.
Expanding the Roads. Several folks mentioned widening the roads – this is difficult and expensive however we are working on this on Washington Street, where the City has been purchasing older houses in the area as they come on the market to provide for future road needs.
Ferndale Terrace/Douglas Road/Etc. There are several more road projects that we are working to fund. This includes chasing grants, socking away money and working with developers on adjacent projects. In the meantime, we regularly conduct maintenance on these roads to extend their lifespan.
This discussion began with the consideration of a "Downtown Catalyst" program that would incentivize a specific type of development downtown. This sort of program cannot be used for a road improvement, so while traffic is an essential component to a well functioning downtown, this effort is looking at other ways to stimulate Main Street.
"No More Pharmacies/Bars/Barbershops/Fast Food Restaurants/etc"
or
"What we really need is a Cabela's/Fred Meyers/Comic Book Shop/etc"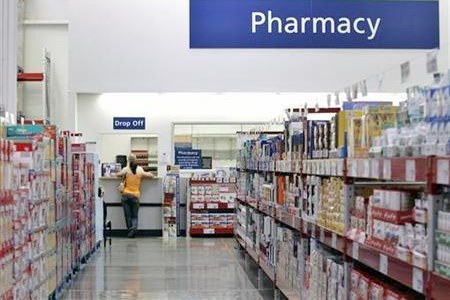 Many of you had strong opinions about what we have too much of already in Ferndale. Unfortunately, the City does not get to decide which businesses open up in our downtown. We can set the rules to allow certain sizes of business or certain industries, but we don't get to decide between a Taco Bell and Pita Pit. Those decision are made by the business owners who chose to build in our city.
That doesn't mean that we can't work to invite specific types of industry. Last year, the City Council and our planning department worked hard to loosen the restrictions on outdoor dining because we know that is something Ferndale wants.
In short, we hear you and want to make sure that this catalyst program is aimed at bringing something new and different to our community.
To Theme or not to Theme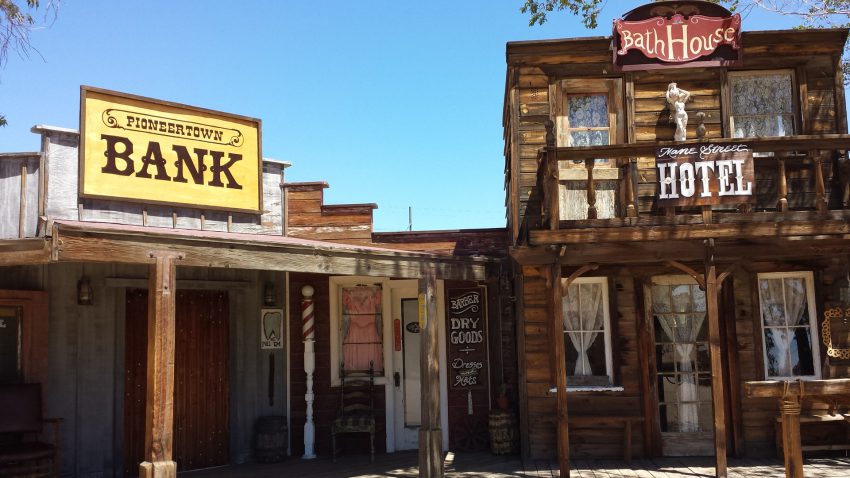 There was a robust discussion about whether or not to implement a "theme" for our downtown revolving around Pioneers, Cowboys, our shared history with the tribes, or some combination there of.
Themes can be difficult to implement – does the City pay for all the improvements, or cost-share with the downtown businesses? Do we mandate that everyone comply or give an incentive to those that do? There are some high-profile success stories of communities using a theme to draw in tourists, on the other hand, there are several examples where it did not quite work.
One thing to consider is a difference between a theme and a sense of place. A good comparison here in Washington is Leavenworth and Lynden.
Leavenworth has a theme for their downtown – all the buildings are required to comply with the design standards and it is aimed at encouraging tourism.
Lynden has a sense of place. Not every building fits with the Dutch theme but there is no doubt that many structures draw inspiration from that shared heritage.
"We are too big already!" With all the new neighbors moving to Ferndale in the last twenty years, it can be a little overwhelming how fast our small town has grown. However, study after study has shown that the number one way to generate economic activity downtown is to have people living within walking distance of downtown. That can mean more apartments, townhouses and mixed use developments (stores on the bottom, apartments on top).
That said, we appreciated all the feedback surrounding what that density should or should not be. There are lots of ways to add more housing to our City and thanks to your feedback, we know a bit more about what that should look like in Ferndale.
"We need more parking downtown"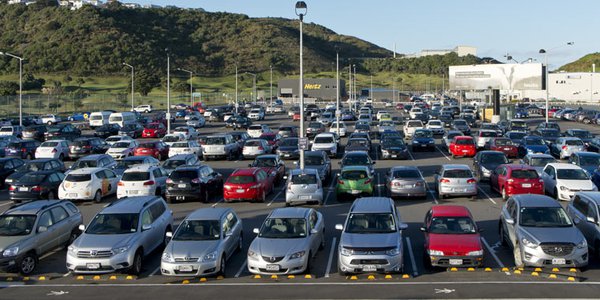 This topic was tied in to traffic, however there are a few points worth mentioning. There is a perception that there isn't parking downtown however, there are over 300 parking spaces within a five-minute walk of Main Street.
This tells us that we need to do a better job of shepherding visitors and residents to the available parking, and it is one of the top priorities for our next update to signs in the city.
Sources of Inspiration
One of the things we asked was what other downtowns do you like, and want us to emulate. Here is a list of the responses we received:
Locally:
Lynden
Fairhaven
Barkley Village
Downtown Bellingham
In Washington State:
Snohomish
Edison
Port Townsend
Kirkland
Issaquah
Oak Harbor
Whidbey Island
La Connor
Winthrop
Leavenworth
Coupeville
Outside of Washington
Park City, UT
Old Town in Sacremento, CA
Murphys, CA
Virginia City, NV
Bend, OR
Moose Jaw, Saskatchewan
Harlowton, MT
San Diego, CA (Old Town section)
New York, NY (Little Italy section)
Some of these examples were new to us here at the City and in the next couple of weeks, we will be diving into what makes them excel.
Other Suggestions

Here are the rest of the suggestions and feedback we received beyond what we've already covered. In some cases, we have combined several comments into one, so we apologize if your intent got lost in translation.  Thank you again for everyone who contributed to this discussion – together, we can build an even more successful Ferndale.
If you have more thoughts and feedback, please feel free to email us by clicking here or reaching out through social media.
An interurban trail that connects downtown with Pioneer Park/Housing/other amenities
More family friendly restaurants
More indoor family activities for a raining day such as a children's museum, art gallery, pottery painting place, etc
Remodel/Beautify/Clean the store fronts we have such as Pioneer Square and downtown
Larger post office
More affordable housing
Developments with condos on top and dining down below
A shoe store (specifically geared towards runners)
A designated place for the Farmer's Market
Another bridge across the Nooksack
A public pool
More places to get tacos
Speed bumps on 2nd Avenue and Washington Street
A Quiet Zone for Trains
Improved public accessibility for the disabled
Add art to the bridge across the Nooksack
A community recreation center with sports facilities or a climbing wall
Plant more trees
Better camping options in the area
More healthy dining options
No more than three stories for buildings downtown
No more than two stories for buildings downtown
Build a six to seven story apartment complex downtown
A family friendly brewpub
An all-ages performance space
A neutral, modern theme for our businesses
A stylized pioneer theme for our businesses
An old-school Soda Fountain diner
A bakery, bagel or donut shop
Dynamic architecture that is eye-catching
More restaurants outside of downtown
A Zoo
A paintball facility
A Laundromat
A movie theater
A drive-in movie theater
A two-dollar movie theater
Dance studio
More efforts to honor our local tribes
A foot bridge to connect with Hovander park
Different colored flower baskets
A steak house
More community art
A skating rink
An arcade/candy shop
A Comic book store
More pet areas, including an off-leash dog park
A frozen yogurt business
A teriyaki/ramen/sushi restaurant
More senior housing
Car-free zones
Tiny homes
A sports bar
More activities for teens and tweens
Next Steps
Right now, the City Council and the Planning Commission are processing your feedback, looking into other comparative catalyst programs and discussing what would be the right fit for Ferndale. The goal is to finalize the program before the end of 2018 so that it is available for the 2019 building season. Stay tuned to our city website and social media channels to get updates as this effort to revitalize our downtown moves forward.
That's it for now. Again, if you have any questions or feedback on this whole process, please feel free to reach out to us by clicking here.