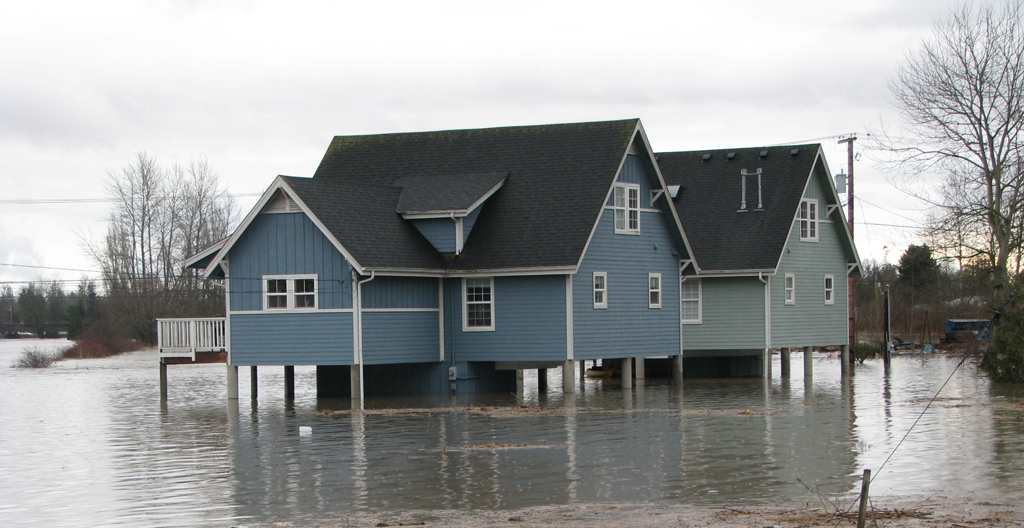 Much of the low-lying areas of Ferndale are within a Special Flood Hazard Area (SFHA) – or that area that has a 1-percent chance of flooding in any given year. This area is commonly known as the 100-Year Floodplain. In Ferndale, the floodplain is associated and influenced by the flooding of the Nooksack River. However, not all flooding in Ferndale results from the river topping its banks.
The Federal Emergency Management Agency (FEMA) is responsible for working with state and local jurisdictions to manage flood preparation and respond to flood emergencies. FEMA works with the National Flood Insurance Program (NFIP) to evaluate flood risks and to require flood insurance for those properties within Special Flood Hazard Areas. FEMA is responsible for preparing and distributing Flood Insurance Rate Maps (or FIRM's – link) which depict the assumed location of the 100-year floodplain at the local level, the various flood areas within the floodplain, and Base Flood Elevation data (BFE – the projected elevation above sea level of the 100-year flood).
The City of Ferndale has adopted FMC 15.24 Floodplain Management, in consultation with FEMA. The chapter is fully-compliant with FEMA regulations and all development within the 100-year floodplain must comply with these regulations.
As a general rule, development within the Floodway (that area of the floodplain where flood waters are moving at such a rate that structures or other objects may be carried away) is restricted, while development within the remaining areas of the Floodplain is permitted, provided that such development is raised above the base flood elevation and/or flood-proofed. Much of the floodway area in Ferndale is under public or quasi-public ownership, and is subject to the City's Floodway Zone limitations, which restrict development. The remaining areas of the City that are within the Floodplain carry the same zoning and use designations as the rest of the city, but individual developments may require modification in order to comply with floodplain regulations.
General Documents & Links
Development Documents & Links
Flood Protection Information
·   Above the Flood: Elevating Your Floodprone House, FEMA-347 (2000)
·   Answers to Questions About the National Flood Insurance Program, F-084 (2011)
·   Coastal Construction Manual, FEMA-P-55, (2011)
·   Elevated Residential Structures, FEMA-54 (1984)
·   Protecting Manufactured Homes from Floods and Other Hazards, FEMA P-85 (2009)
·   Protecting Building Utilities From Flood Damage, FEMA-P-348 (2017)
·  Protecting Floodplain Resources, FEMA-268 (1996)