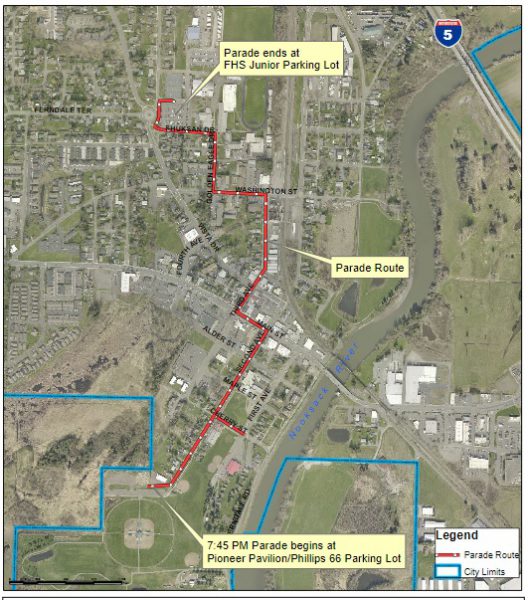 This Friday starting at 7:45pm, graduating Seniors will parade through downtown Ferndale on their way to the graduation celebration at Ferndale High School. This parade is organized by the Senior Class Parent group in consultation with the City of Ferndale, the Ferndale Police Department and the Ferndale School District.
Participants will line up in the Pioneer Parking lot, and overflowing to the Phillip 66 ballfields, at 7:30pm before making their way to Main Street and continuing on through to Ferndale High School.
All participants are advised to practice social distancing during this time and should remain in their vehicles. Practice 6' separation from other families, and wear masks when such distancing is impractical. Volunteers will be there to help facilitate. Students may drive themselves, have a parent or other driver, and/or may ride together with no more than four people to a car, as per Washington State Phase II requirements.
All vehicles and occupants must follow existing traffic regulations, including observing traffic signals and lights, yielding to pedestrians, wearing seatbelts, observing posted speed limits, and avoiding stoppage during the parade route. Be aware that businesses will still be operating including pick up services for restaurants.
Family and community members are invited to come out and cheer our Seniors on along the parade route. Spectators will need to stay on the sidewalks, not enter the roadway to greet the participants, and should not stop traffic for photos.
Prior to the parade, graduates and their families are encouraged to grab a bite to eat from one of Ferndale's great restaurants downtown, either dine in or take out.
For those traveling through the City during this time, please utilize alternative routes if possible and obey all traffic direction provided.