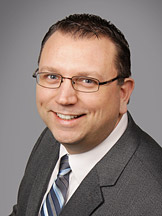 At the Dec. 4th meeting, the City Council appointed Dan Barry to the Parks, Recreation and Trails Advisory Board, after a recent bylaws change allows the advisory body to have up to nine members.
Barry attended Ferndale High School in the early 90's and went on to attend Whatcom Community College. He currently lives in Ferndale with his wife Jayne and six year old daughter Madeline – who is continuing the tradition of attending Ferndale schools. Mr. Barry works for COUNTRY Financial in Barkley Village and provides insurance products that protect his customers from the financial burdens associated with difficult life events. Mr. Barry looks forward to serving on the Parks, Recreation and Trails Advisory Board and bringing his years of public service knowledge back to his hometown.
The Parks, Recreation & Trails Advisory Board assess the community's park and recreational facilities, programs, needs and costs, makes recommendations to the City Council for the care, management, supervision, improvement and budgeting for City parks and recreational facilities and provides recommendations related to the updating of the City's Parks Master Plan.
The Board meets at 6:30 p.m. the third Thursday of each month at City Hall.