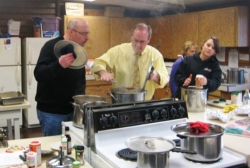 The Ferndale Community Meal is held twice each month, normally on the 2nd and 4th Saturdays 10 a.m. to noon. Residents of the greater Ferndale Community gather for a free meal. Everyone is invited to come and share stories over food.
The community meets at United Church of Ferndale, 2034 Washington St. to enjoy the meal prepared by volunteers.
Donations are accepted but never required.
Click here for a printable PDF version of the meal dates.
To volunteer or for more information:
Coordinator: Joanne Flores
Phone & Email:(360) 714-9029, fcm.ferndale@gmail.com
For monthly meal date and menu information, call (360) 714-9029.
2014 Meal Dates (from 10 a.m. to noon)
January 11 & 25
February 8 & 22
March 8 & 22
April 12 & 26
May 10 & 24
June 14 & 28
July 12 & 19
August 9 & 23
September 13 & 27
October 11 & 25
November 8 & 22
December 13 & 20